The 3 Best Patio Furniture Mixing Ideas to Bring Your Style up a Notch
When it comes to patio furniture, there are endless possibilities. You can go for a classic look, a modern twist, or something completely unique. Mixing and matching different pieces can give your patio a one-of-a-kind look that will be sure to impress your guests. Outdoor living spaces are also a perfect place to let your personality shine through. Patio furniture is an easy way to make those spaces more personalized and well-loved, but one of the most common concerns people have when placing furniture on their patio is how they can mix various styles. This article will show you the 3 best ways to do it correctly, so take a look and see if you have been doing it wrong this whole time!
Mixing Styles Tip 1: Match the Style
One of the best ways to mix patio furniture styles is by matching the style of your furniture to the style of your home. If you have a more traditional home, then go for patio furniture with more traditional designs. If your home has more of a contemporary style, then you can opt for modern patio furniture. When deciding on a color for your patio, you need to figure out which colors can match it and not clash with it. Some colors, such as brown and orange make a good combination. By matching the style of your furniture to the style of your home, you can create a harmonious look that will make your outdoor space look like an extension of your indoor space.
Mixing Styles Tip 2: Go for Contrast
One of the best things about patio furniture is that there are contrasts! You can mix and match styles to create a look that is uniquely yours. If you want to add a bit of personality to your outdoor space, then you can go for contrast instead of matching everything. One way to make your outdoor space interesting is to mix up the shapes. For example, even if you choose a round-shaped table and chairs, you can bring in a square back patio or some other shape to keep things new and different. Instead of making everything round or square or circular, use pillows, squares, rectangles and other shaped objects. By going for contrast, you can really personalize your outdoor space and make it stand out from the rest. The important thing is to have fun with it and create a space that reflects your personal style.
Mixing Styles Tip 3: Add Seating with Variously Shaped Decoration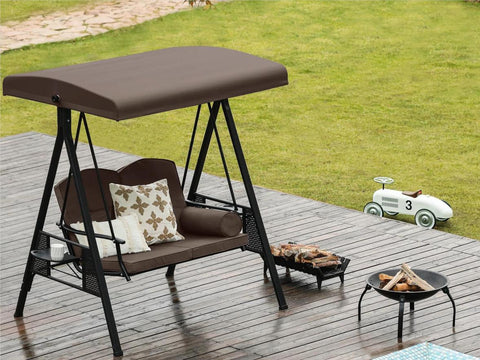 Whether you have a small or large patio, adding seating is a great way to make it more inviting and comfortable. There are a variety of ways to do this, from built-in benches to freestanding chairs and tables.
If you have a lot of space, you may want to consider adding a sofa or swing chair. This will create a more relaxed atmosphere where people can socialize and enjoy the outdoors. For smaller patios, chairs and stools are a good option. You can even get creative with this and use items like barrels or crates as seats!
Another seating option that is becoming increasingly popular is outdoor bean bag chairs. These are great for lounging around and they come in a variety of colors and styles. When deciding on patio furniture, it is important to consider how it will work with your existing decor. People may want to use pillows when they're sitting around a table on the patio. We can select accessories that match the color and fabric of the surrounding area.
Conclusion
Whether you're looking to add a touch of class to your patio furniture or you're simply tired of the same old thing, mixing and matching different pieces can be a great way to change things up. With our 3 ideas, you'll be able to take your patio style up a notch!
---